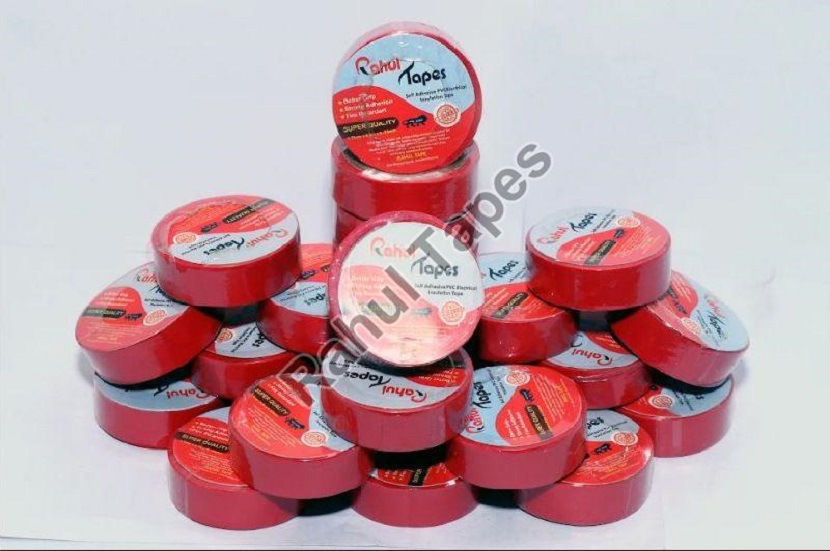 For many people, Electrical tape may appear to be just like any other kind of regular tape. But it has some distinctive features and significant benefits that make it unique. It is usually made from plastic, polyvinyl chloride or fiberglass cloth. This elastic tape is highly useful for a variety of different jobs and projects.
Electrical tape made from PVC is often known as insulating tape, and its usage in the workplace and home settings is widespread. These insulation tapes come in a variety of widths, thicknesses, and colors for various applications. This ensures accurate color-coding of various wires for safety purposes. This safety tape for wires is used to cover and insulate a broad range of cables, wires and other materials that conduct electricity.
Red PVC tape is an affordable general-purpose insulating tape that has excellent resistance to moisture, abrasion and corrosion. It is often used to insulate electrical wires, insulate other material that conducts electricity and make minor repairs to damaged wires. Red PVC tape is most commonly used in Do It Yourself (DIY) applications for making repairs and joining small wires.
But remember it should not be used for major repairs to badly damaged or unspliced wires. Also, it should be avoided for creating permanent connections in junction boxes, light switches, or wiring outlets. This kind of tape should not be applied as a standalone repair for wires near flammable materials.
Does Red PVC electrical tape conduct electricity?
When used properly, Red PVC tape acts as an insulator. It protects the transfer of any electrical current passing through the wires to people or components coming into contact. Hence, properly rated and applied pvc tape should not conduct electricity.
Can Red PVC tape catch fire?
The market is flooded with varieties of insulation tape that are indeed flammable if they're allowed to get hot enough. But Red PVC electrical insulating tape has much more advanced heat-resistant properties than others. In general, these tapes cope with temperatures up to around 80 degrees Celsius. Most reputable Red PVC tape manufacturers in India will have decent thermal properties. The probability of combustion is usually low if it's used sensibly and in the environment for which it was designed. Due to its heat-resistance and anti-inflammable properties, Red PVC tape is applied in high-temperature areas.
How to successfully use Red PVC tape to ensure a safe and trouble-free installation?
Select the appropriate grade
A cold weather tape is appropriate In cold conditions, for better adhesion. Also, in high temperatures, you need heat-resistant and anti-inflammable tape. A standard electrical tape can be used for all other applications like indoor settings. But you must use water-proof Red PVC tape for all kinds of outdoor fittings. Therefore, you should pay attention to the temperature resistance of the tape to ensure you are using the right one.
Half-lap the tape
The proper application of Red PVC tape is to half-lap which results in a double layer of tape. A minimum of two half-lapped layers or 1.5 times the thickness of the insulated wire, whichever is greater is recommended. You must ensure that the tape should be thicker than the insulation to add a level of protection.
Stretch the tape as you wrap
Electrical tape works best when it adapts to the object to which it is being applied. Whenever you are applying the tape to a cord or piece of wire, you should stretch the tape as you wrap it. When the tape is stretched as it is being applied, it will provide more insulation protection than when it is applied loosely. Due to the high stretchability of Red PVC tape, it is wrapped perfectly on the wires. To create effective insulation, you should wrap the tape properly.
Use self-adhesive tape for superior moisture resistance
The self-adhesive tape, also known as self-fusing tape, can be used to insulate and moisture-seal low-voltage electrical applications. These tapes have a high level of adhesiveness which gives them moisture-resistant properties.
Red PVC tape is a relatively easy product to use and with these tips, it is sure to be a trouble-free installation. These effective tips will help you properly and safely apply electrical PVC tape for your next application.
Are you feeling overwhelmed by all the available choices of Red PVC tape manufacturers in India? Don't worry, you just need to approach the best manufacturer to get the best pvc tapes.
A good Red PVC tape manufacturer offers tapes made from extremely high-quality plastic that have a-
High adhesion
Chemical and weather resistant
Elongation
High flexibility
These tapes should meet the needs of all electrical cable and wiring tasks like covering split bolts, and motor leads connections.
The popularity of Red PVC tape manufacturers in India is due to the following reasons-
They have a huge infrastructure unit that spreads over a large area of land. It has a spacious warehouse and modern production unit which is well equipped with the latest machines and tools.
They have a team of talented professionals that use the best of their knowledge and expertise. This ensures to keep the quality of these tapes as per current market standards.
They offer high-quality tapes which are safe to use and have smoother fixtures at very economical rates.
They provide quick access to websites with an updated price list of all kinds of tapes, the latest offers and images. This helps the customers to choose and buy these tapes to keep them as per required market standards.
They offer easy online payment options such as debit cards, credit cards, EMI and even COD that keep the payment spam free and safe.
Red PVC tape might look like a simple product but on proper application, it can become a valuable asset. You can use it for a lot of different jobs such as insulating motor lead connections. Thus, Red PVC tape is highly beneficial in wrapping wires and other domestic electrical appliances for safety purposes.